HIRE OF OXYGEN CONCENTRATORS NZ WIDE
Nidek Nuvo Lite Oxygen Concentrator
The Nidek Nuvo LIte is a premium 5.0 liters per minute Oxygen Concentrator that we can provide both short and long term hire options for. Oxygen Concentrators are supplied with nasal prongs and a face mask ready for use, just adjust the flow rate settings, plug it in and turn it on. An Oxygen Concentrator provides medical grade oxygen that will assist in shortness of breath and will generally aid well-being, we often supply them to clients who have just been or are about to be discharged from hospital.
Costs are $185.00 + GST per calendar month, there is also a delivery / collection charge which will vary depending on where you are located.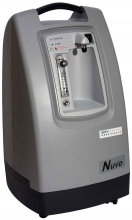 Emech Medical Supplies
Please feel free to call us 0800 436 324 / 1800 043 324 or email us sales@emechmedical.com for a comprehensive information pack and pricing on your requirements.